BIO
CORPUS NECROMANTHUM
We're a Blackened-Death Metal band hailing from Costa Rica in Central America. We came to life back in 2004 with a lyrical concept deeply rooted in esotericism, necromancy, and the shadows of humanity, and that's still our guiding force to this day. We even had the chance to share the stage with legendary acts like Napalm Death and Malevolent Creation in our early days.
Recently, we've undergone a profound transformation, shaping our music and identity around our band members and style. We've pushed our boundaries, creating a fresh, powerful blend of composition, sound, and presentation. It's with immense pride that we introduce our latest full-length album, "He ... Who Suffers Knowledge," meticulously mixed and mastered by the esteemed producer Déhà from Brussels, Belgium. This album is a joint effort with Satanath Records in Russia and Sanatorio Records in our home country, Costa Rica.
Our aim is simple - to immerse you in a unique musical experience, touching upon various emotions and elements, all encapsulated in the mystical aura of necromancy.
LISTEN TO OUR NEW ALBUM HERE
UPCOMING / PAST EVENTS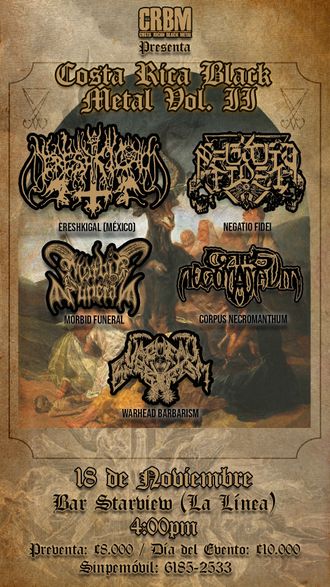 LATEST RELEASE
Press Kit
From the band!
With the release of our newest full-length album "He ... Who Suffers Knowledge", we are looking forward to finding opportunities and deals that would allow us to expose and distribute our work worldwide, including festivals, concerts, zines, and radio stations.
Contact us if you want to bring Corpus Necromanthum to your city.